Bri Vermeer is a painter and printmaker from central Ontario, Canada.

Currently, she is completing a Bachelor of Education at Nipissing University in North Bay, ON which is on the territory of Nbisiing Anishinaabeg, on lands protected by the Robinson-Huron Treaty of 1850.
Upon completion of this program, Bri will be qualified to teach in the Intermediate and Senior Divisions with teachable subject areas including Visual Arts and History.
At present, Bri has been creating small- to mid-scale watercolour paintings, plasticine artworks, and graphic design (including but not in any means limited to teacher organization tools; classroom media and slide presentations; or student worksheets, assignments, and notes).
Bri attended OCAD University in Toronto, ON (Mississaugas of the Credit, Haudenosaunee, Anishinaabe, Huron-Wendat – Dish With One Spoon Wampum, Treaty 13) from 2014-2021 and graduated with a Bachelor of Fine Arts.
They majored in Drawing & Painting and completed a minor in Printmaking. Bri's work has been included in several group exhibitions from Toronto, ON to Montréal, QC. Their works are held in private collections in Canada, the United Kingdom, and the United States.
Bri's work has focused on the intersections of memory, disability, family textiles, and movement through both the built and natural environment. She has happily oscillated between the intuitive process of creating large scale oil paintings, and intimate and methodical process of printmaking.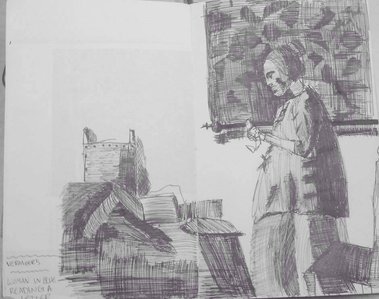 occasionally ~abled~ // mostly dis—